Buck Creek RV Park – RV Campground
Near Asheville NC, Linville NC &
Pisgah National Forest
Welcome to Buck Creek RV Park, tucked away in the city of Marion, North Carolina and surrounded by acres of sprawling greenery and burbling streams. Here, we invite you to explore an outdoor expanse unlike any you've ever seen, complete with waterfalls, hiking paths, and fun for the entire family.
If you're a new visitor to the area, we're happy you found your way to us. If you're a long-time veteran of the park, or you're simply passing by on your way to Pisgah Forest, Asheville NC, Linville NC and the scenic Linville Falls,  it's great to have you back. As a premier resting station, Buck Creek RV Park is all about creating a tight-knit community feel amidst what we feel to be the most stunning natural campground in the nation.
Now, let's get down to the details: our 74 RV sites are currently sprawled across 48 acres of land, with a half-mile frontage set along a beautiful mountain stream. The setting is spacious and peaceful, and many of our customers come from all over the state and country to see what Marion, NC, is truly about.
We're also conveniently located in the Western part of our great state, which means we're just a stone's throw away from the legendary Pisgah and Cherokee National Forests. In terms of cities, we're currently only about a 45-minute drive from Asheville or Linville, and a 1-hour drive from Boone and Hickory. It's our prime location and offerings that make us a one-of-a-kind destination, and Buck Creek RV Park has already become a well-known fixture around these parts.
So, if you're an outdoor enthusiast, it's safe to say this is the place for you. Just bring your toy haulers and motorcycles, and experience some of the best roads in the nation, including the Diamondback Loop. Oh, and strap on those hiking shoes. From Mount Mitchell and Linville Falls, to the Pisgah and Cherokee National Forests, there are more than enough opportunities for next-level climbing and fun. Not to mention the fact we have seven other waterfalls in the area.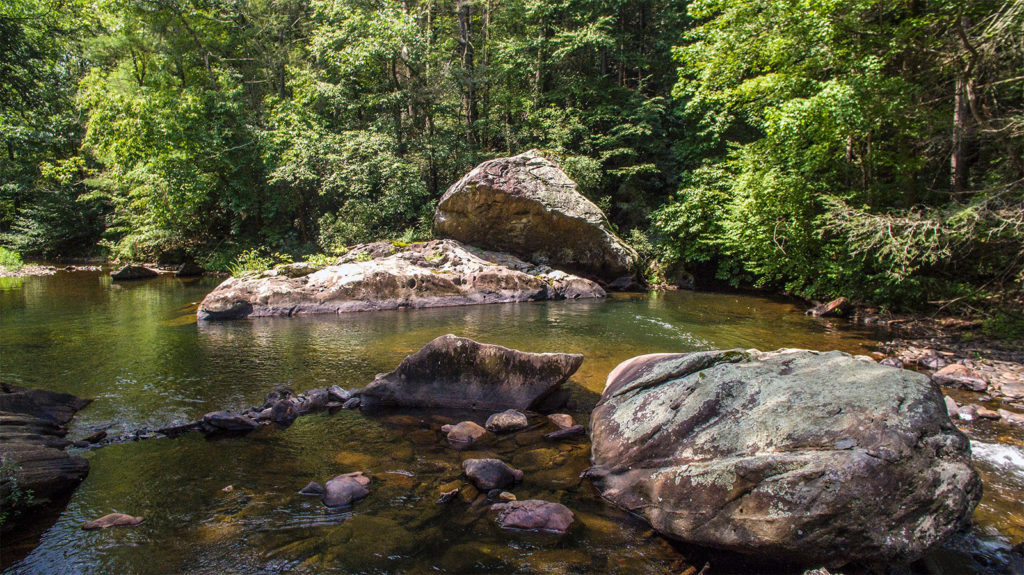 As for other staple attractions, be sure to bring your camera and enjoy the Biltmore House, the largest private home in the nation. Or, simply bring your lounge chair and soak up the Marion sun, watching Buck Creek roll on by.
Here at Buck Creek RV Park, we take care of friends like family, and we couldn't be happier to have you join us. For more information, please contact 828-724-4888 today.
Take A Virtual Tour!